Navarre Tree Trimming Services
Serving Navarre, Gulf Breeze, Pensacola and Fort Walton Beach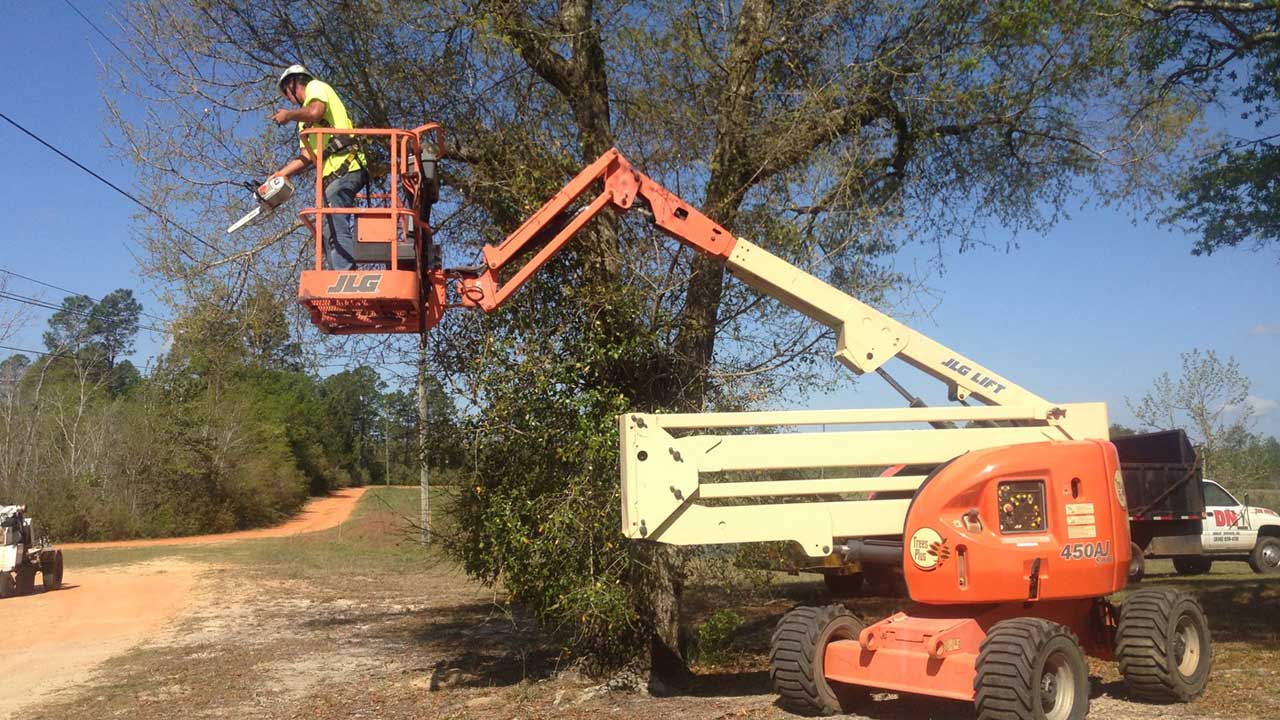 Tree trimming and pruning improves and beautifies your landscape by solving tree care concerns such as insect infestation, shape, appearance, tree hazards and structural integrity. Professional Navarre Tree Trimming Services done by our certified arborists and certified tree care experts improves the natural beauty of trees in your landscape creating an atmosphere for them to flourish, grow stronger and healthier while adding value to your property.
Here are the core benefits of our tree trimming services:
Safety
A safe landscape is a friendly environment for your family. Pruning shrubs, dead tree branches, or overgrown branches that shroud the entry to your home can prevent accidents that can cause severe injuries and damage to property. Also, pruning branches that get in the way of overhead wires, sidewalks, parking areas, electrical and utility wires etc. can make your environment safer for you and your family.
Health
At DN Bobcat Services Inc. our tree trimming and pruning services include the elimination of broken, infested, diseased or dead branches. This type of professional tree care can stop disease-causing fungi from spreading to other areas of your landscape. Also, tree trimming helps reduce the risk of pest infestation that can cause severe harm to the tree.
Appearance
The appearance of your landscape with well-trimmed flourishing trees can increase your home value by as much as 20 percent. Trimming your trees for aesthetics includes controlling tree sizes and shapes, maintaining shrubby evergreens and ensuring they are well-proportioned and dense. Also, it includes removing any branch and unwanted fruiting structures that can cause undesired shapes and size trees.
Developmental tree pruning
This type of tree pruning is also known as young tree pruning. It is done for structural improvement. This process ensures that young trees have a desired branch structure and strength. Appropriate pruning of young trees reduces the possibility of future problems and the need for additional support as your trees mature.
Maintenance
Almost every tree in your landscape is there for a reason. While some trees are for flowers and fruit development, others could be for maintaining a dense hedge or keeping a desired plant form or special garden form. Regardless of why you have trees, our tree care experts can help you maintain your trees to ensure it serves the purpose you want just the way you want it. The trees can be trimmed to exactly how you want it for maintenance purpose.
Professional tree trimming services          
At DN Bobcat Services, Inc. We are your Navarre Tree Trimming Services experts. We deliver professional tree trimming and pruning services in Navarre, Fort Walton Beach, Pensacola and the surrounding areas to give your landscape an architectural attraction of flourishing green leaves for a healthier and safer environment. You don't have to experience the outcome of attempting to prune trees all by yourself as tree pruning injuries are often severe.
At DN Bobcat Services, Inc. we have a certified tree care expert with several years of professional experience who will be more than happy to give your trees the appearance of your choice.